Local Participation for Local Resources
A coalition of concerned Coast residents working to keep Mombasa vibrant.
Why #OkoaMombasa? Learn more about the issues facing Coast.
Catch up on the latest news from the Okoa Mombasa coalition.
More information on Okoa Mombasa's events.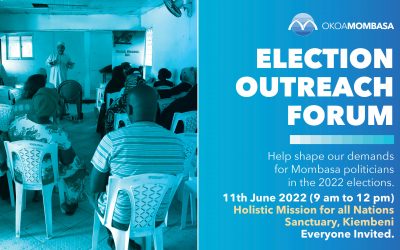 Okoa Mombasa will hold an open Election Outreach Forum on 11th June, 2022 from 9 am to noon at Holistic Mission for all...
read more
Get in touch and let us know what issues matter to you.
Want to bring people together to discuss community issues?
We need mobilisers in Mombasa and beyond! Can you help?
Breaking down the key issues facing Coast
Tracking our quest to obtain SGR & CT2 documents
FOLLOWING THE CASES THAT IMPACT COAST
Stay informed, stay engaged!
Join our mailing list for regular updates on issues affecting Mombasa and Coast